There were a couple other painting projects I did in my living room in addition to the candlestick holders and the driftwood oars, but mainly they were spray painting projects without much to it. Here are a few close-ups of the space and some of those projects and small details in the room. There are a few I missed, but I decided to just show those other things when I do a final reveal of the room.
Just for reference, the living room. Lots I want to still do, but here showing some progress is better than none right?! ;)
In the top left of the entertainment center are two pictures of the kids, and on the right we have the clock and frame pictured below.
This frame was an old one I had in a box from long ago. It was a metal/rusty-ish type of color that I touched up with Aqua spray paint.
Doesn't it kind of look like these frames from Z Gallerie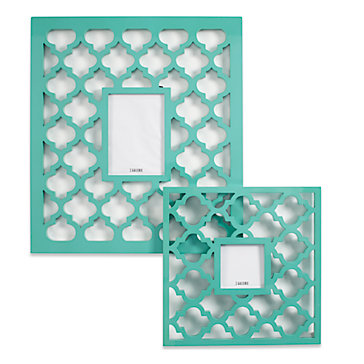 Next to the picture is this pendant clock I picked up for $10 at Real Deals in Tooele.
Looks pretty close to this one from Pottery Barn right? Just significantly less in price!
Here's a little bit of a DIY project for you! I followed the tutorial from Hill Country Homebody for the armillary sphere. This sits on one of my DIY Distressed Candlestick holders. Eventually those will be displayed on my console table that is to the right of the entertainment center.
At least that's what I'm calling it (armillary sphere) because I saw these on Z Gallerie and they fit the bill pretty closely. For mine, I spray painted them with an aluminum paint and loved how it turned out.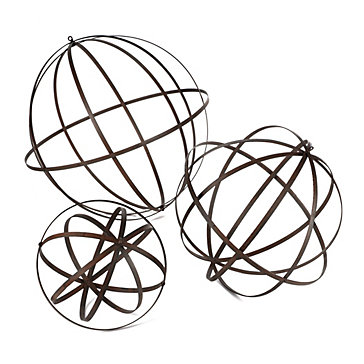 Two other small pieces of décor in here:
The wire basket sitting on the entertainment center is a repurposed one I spray painted white and filled with decorative orbs. And actually, now that I'm looking at this I've taken the large orb out and filled it with two other smaller ones. Guess I'll update that next time too. ;)
Last, this bowl is an awesome decorative element that sits in the middle of my coffee table. I haven't filled it with anything yet, and probably won't. It looks great on it's own so I'd like to leave it that way! This was another thing that wasn't being used at work after some rooms were turned into offices and I asked for it. Thanks boss man! ;)
Ok, so that's a little glimpse into some of the stuff going on in this room. I'll hopefully get more done in the next month and can show a final reveal soon!